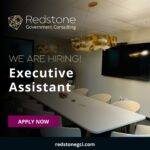 Redstone Government Consulting
Redstone GCI is seeking an Executive Assistant (EA) to support the CEO and President with day-to-day administrative tasks.  As necessary, the EA may be called on by others within the organization to support the planning of team and client related events and other tasks approved by the CEO/President.  The executive assistant will perform a wide range of administrative office support activities and aide the CEO and President in facilitating the efficient operation of the organization.  The position is full-time and will require local travel to support the requirements of the job with the possibility of out-of-town travel on an infrequent basis to support company sponsored events in other markets.  Primary work location will be the Redstone GCI corporate office located in downtown Huntsville, AL.
Duties/Responsibilities (Include but are not limited to)
Interface with internal team members and external clients to facilitate scheduling of meetings to include sending reminders and organizing catering (coffee/water, lunches) when needed
Serve as a focal point for internal and external stakeholders for scheduling activities on the executive calendars and ensure that adequate time is allowed for meeting preparation
Provide administrative assistance such as writing and editing emails, word documents and preparing communications on the executive's behalf
Provide support for the development of training courses in MS PowerPoint including editing, reviewing for spelling, grammatical, presentation and formatting
Support the review of other written correspondence such as articles and other web media
Provide support to the President/CEO with business/personal tasks, pick-ups and other duties as requested
Answering phone calls and emails in a polite and professional manner
Performing minor accounting duties such as preparation of executive expense reports
Support the scheduling and planning of travel including booking airfare, hotel, rental car and other accommodations and providing an itinerary for travel
Support research tasks concerning event planning and other activities as delegated by the President/CEO
Serve as the primary point of contact for the executive team including greeting visitors, receiving phone calls and all other guests entering/exiting the building
Maintain inventory of the company office supply room and break room and order/restock as necessary.
Be accessible by phone after-hours when needed. Redstone GCI maintains traditional office hours but on occasion the executive team may need support after hours due to travel and other commitments
Maintain and track important dates such as birthdays, anniversaries, and other personal and client matters
Key Skills & Attributes
Team focused and able to work collaboratively in an office of professionals
Strong skills when utilizing MS Word, PowerPoint, Excel, Teams and other MS Office tools experience with the demonstrated ability to not only use, but continually improve with new software through ongoing continuing education – Redstone GCI utilizes Office 365 tools and is heavily dependent on online communication
Demonstrated ability to improve administrative workflow in an office environment and willingness to contribute ideas for ongoing improvement
A positive attitude and high-level of professionalism in the conduct of work. Our clients are CEOs, CFOs and other "C" suite professionals and the ideal candidate should have a demonstrated record of interfacing with these types of individuals and ability to develop relationships and rapport
Willingness to take ownership of assigned projects and seek support and guidance where needed from the wider team
An extremely high-level of confidentiality and discretion is critically important.
Experience
Minimum of 3-years of experience in one location supporting Executive-level professional(s)