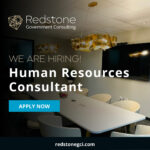 Redstone Government Consulting
The HR Consultant will work with our team of experts in providing unparalleled service and support to our valued Federal Government Contractor clients. This individual will have the unique opportunity to collaborate with cross-functional teams and learn from respected industry experts. The HR Consultant will work under the direction of the Director of Human Resources Consulting Services and will have a sincere desire to continuously learn and grow, exhibit excellent communication skills, and be a motivated, proactive self-starter.
Duties/Responsibilities
Review and develop Handbooks and Policies & Procedures, with consideration of each client's individual needs as well as federal, state and local laws and regulations,
Develop and administer compliant recruiting, onboarding, employment change documentation and out-processing functions
Assist in the selection, implementation and administration of benefit programs and Open Enrollment
Provide guidance on the regulations enforced by the Office of Federal Contracts Compliance Programs
Provide guidance on federal and state mandated leave and disability requirements
Counseling and coaching on performance management and disciplinary procedures
Development of compensation programs and pay-equity analysis
Creating, planning, providing and/ or participating in training across various platforms (i.e., live, web-based, and Learning Management System)
Continually enhance personal knowledge base related to applicable laws and regulations
Requirements
Bachelor's degree in human resources or related program
4-6 years relevant experience
Excellent computer skills to include Word, Excel, and PowerPoint
High ethical standards, extreme discretion and consistent practice of maintaining confidentiality
Strong interpersonal skills with ability to build and maintain relationships across the team and with clients
Ability to multi-task, prioritize and succeed in a fast-paced and ever-changing environment
Ability to maintain knowledge in trends, best practices, relevant new technologies, talent acquisition/management and employment law
Ability to identify issues, research solutions, know when to ask for assistance, and resolve problems efficiently and compliantly
Proficiency in professional and tactful verbal and written communications
Desired Skills
Hands-on experience within the HR department of a federal government contractor
Knowledge of Service Contract Act/Service Contract Labor Standards
Knowledge of Davis Bacon Act
About Redstone GCI
Founded in 2012, Redstone GCI sought to be a unique resource to the government contractor community through providing compliance advice across the back office. Our firm exclusively supports government contractors and not-for-profit entities working with the U.S. Government. Redstone GCI supports over 700 clients throughout the U.S., Europe, The Middle East and Australia and our clients include some of the largest government contractors as well as many small to mid-sized businesses. Our team members are subject matter experts in all phases of the acquisition lifecycle and the detailed compliance requirements encountered within the GovCon industry. Our consultants support Accounting, HR, Compliance, Procurement, Property Management, Pricing/Business Development, Foreign Export Control and the C-Suite through strategic advisory and due diligence services. Our team is comprised of a mix of government and industry professionals who provide a holistic approach to our advisory services considering cost, business risk and audit.
EEO/ADA Statement
All qualified applicants will receive consideration for employment without regard to race, color, religion, sex, sexual orientation, gender identity, national origin, disability, or status as a protected veteran.
Redstone GCI is committed to providing reasonable accommodations to applicants with disabilities. If you would like to apply for employment with Redstone GCI and need special assistance or an accommodation to do so, please contact the Redstone GCI HR team by phone at 256-704-9800.