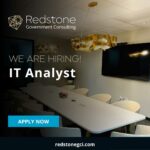 Redstone Government Consulting
Redstone GCI is seeking an IT Analyst to join our team. The ideal candidate will have interest and skills in IT systems, report writing and analytics, and looking to be involved in a fast-paced environment with changing demands with clients across the globe.
Duties/Responsibilities
Provide technical support and training to end-users
Monitor network performance and troubleshoot network issues
Extract data from various sources and use analytical techniques to identify trends and patterns
Work with cross-functional teams to gather requirements and deliver actionable insights
Plan and implement network security measures
Maintain network documentation, including network diagrams and inventory of hardware and software
Requirements
Excellent communication and presentation skills
Proven ability to be self-motivated, take initiative, and work independently in a fast-paced environment
Desired Skills
*While all of these skills are not required, knowledge of or experience with at least one of the below skills is required.
SQL skills and experience with data visualization tools such as Cognos, Tableau, Power BI, or similar
Business intelligence and data warehousing concepts
Experience with Ubiquiti, MikroTik, VMware
Network Cable Termination Skills
We offer a competitive salary and benefits package, as well as the opportunity to work with a dynamic and growing team. If you are a self-starter with a passion for IT, data and analytics, please apply today!