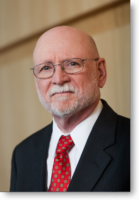 Darryl Walker
Emeritus Advisor
Darryl Walker is an Emeritus Advisor for Government Compliance with Redstone Government Consulting, Inc., and formerly served as an Owner and Technical Director for the Beason & Nalley Government contract consulting group for over ten years. He provides content for our Government Insights Newsletter, provides training courses to government contractor and business community leaders, and consults with government contractors regarding a vast range of issues including cost proposals and presentations, internal controls, proposal preparation, compliance with the FAR and Cost Accounting Standards, litigation support, specialized claims, defective pricing issues, liaison with procurement and DCAA audit officials, and accounting and management systems compliance.
Prior to joining Redstone Government Consulting, Darryl worked with the Defense Contract Audit Agency (DCAA) for almost 34 years in a variety of technical and management capacities. During his tenure with DCAA, Darryl provided audit services to a wide range of government agencies, including the Department of Defense, NASA, Department of Energy, Department of Interior, General Services Administration, and Department of Justice. During his experience with DCAA, Darryl audited over 3,000 government contractors throughout the Southeastern United States, Europe, and the Middle East.
Education
Darryl is a graduate of Texas Wesleyan College with a major in accounting and minor in economics.