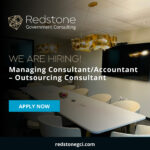 Redstone Government Consulting
Redstone GCI is searching for an independent and detail-oriented senior-level Accountant to join our Collaborative Accounting Team of consultants providing outsourced accounting. Under the supervision of the Director of Collaborative Accounting, the Managing Consultant/Accountant is responsible for overseeing junior staff performing day-to-day accounting tasks for multiple Redstone GCI clients. In addition, the Managing Consultant/Accountant is responsible for leading project work for clients, including accounting system compliance, accounting system and financial statement cleanup projects, troubleshooting, process improvement, and financial statement analysis. The successful candidate will work directly with our client's staff and Redstone GCI staff to complete various monthly accounting tasks, specialized billing/reporting for government contractors and other accounting related projects. This role will primarily be focused on GL accounting but will also provide peripheral support of our client's business including forecasting, proposal pricing, preparation of incurred cost submissions, calculation of indirect rates and completion of book-to-billed analysis.
Duties/Responsibilities
Ensures proactive management of client monthly accounting tasks, including cash/treasury management, accounts payable, billing, indirect rate analysis and payroll
Verification, allocation, and reconciliation of accounts payable, accounts receivable, project ledger and other subsidiary accounts
Development and review of both recurring and non-recurring monthly accrual entries
Maintain books of account on a U.S. GAAP basis
Produce error-free accounting reports and support auditable cost accounting data by developing required documentation and proper accounting transactional support
Assess processes and identify ways to improve efficiency in the accounting close process
Oversee deliverables on various accounting engagements, ensuring completion of scope within target budgets and timelines
Perform quality review on junior staff accounting / technical work product
Compile high-quality and professional deliverables to clients
Provide technical accounting training / assistance to junior team members
Complete ad hoc, unique accounting projects for various clients in some cases without prior templates, work product, or procedures to follow, based on unique project scope, accounting scenarios, and general circumstances
Requirements
Minimum of 5-years' experience in a similar position, or 8 years' progressive experience
Bachelor's Degree in Accounting or related field
Intermediate knowledge of at least two commonly utilized accounting systems in government contracting (QuickBooks, Costpoint, Jamis Prime, Unanet, et al.) is a plus
Experience in all areas of the accounting cycle
Attention to detail, strong analytical thinking skills, and the ability to quickly adapt to various systems/software tools
Intermediate (at minimum) Microsoft Excel user
Knowledge of FAR Part 31 cost principles and/or experience calculating indirect rates
Excellent written communication skills
Internal and external training opportunities may be available for exceptionally motivated candidates that have required skill gaps.
About Redstone GCI
Founded in 2012, Redstone GCI sought to be a unique resource to the government contractor community through providing compliance advice across the back office. Our firm exclusively supports government contractors and not-for-profit entities working with the U.S. Government. Redstone GCI supports over 700 clients throughout the U.S., Europe, The Middle East and Australia and our clients include some of the largest government contractors as well as many small to mid-sized businesses. Our team members are subject matter experts in all phases of the acquisition lifecycle and the detailed compliance requirements encountered within the GovCon industry. Our consultants support Accounting, HR, Compliance, Procurement, Property Management, Pricing/Business Development, Foreign Export Control and the C-Suite through strategic advisory and due diligence services. Our team is comprised of a mix of government and industry professionals who provide a holistic approach to our advisory services considering cost, business risk and audit.
EEO/ADA Statement
All qualified applicants will receive consideration for employment without regard to race, color, religion, sex, sexual orientation, gender identity, national origin, disability, or status as a protected veteran.
Redstone GCI is committed to providing reasonable accommodations to applicants with disabilities. If you would like to apply for employment with Redstone GCI and need special assistance or an accommodation to do so, please contact the Redstone GCI HR team by phone at 256-704-9800.