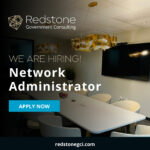 Redstone Government Consulting
Redstone GCI is seeking a Network Administrator to join our growing team. The Network Administrator will exhibit excellent customer service, technical expertise and timeliness in the support of our team and the infrastructure of the firm. In this role, your duties will include ensuring optimal use of our hardware and software technologies, enhancing system performance, and securing data. You will also analyze, troubleshoot, and evaluate technology issues for team members in a fast-paced environment.
Duties/Responsibilities
Receive and respond to service requests from our team
Perform administration of cloud and on-premises services such as Office 365, Exchange Online, Azure, Active Directory, OneDrive, and Intune
Ensure that system performance/state is monitored; analyze and evaluate identified issues, trends, and problem areas; ensure issues are handled appropriately through effective support processes
Clearly communicate and train the team on the proper use of technology
Install, inventory, and configure software and hardware
Manage network servers and technology tools
Monitor performance and maintain systems according to industry standards for security, reliability, and stability
Provide infrastructure expertise to maintain and enhance CMMC compliance
Troubleshoot and fix issues and outages
Ensure system and physical security through access control, firewalls, and various software tools
Upgrade systems with new releases and models
Maintain  and improve technical documentation, procedures, and IT policies
Other duties as assigned
Requirements
United States Citizen
BS/BA in Information Technology, Computer Science, or a related discipline (4 years relevant experience may be considered in lieu of degree)
Minimum 2 years of proven experience as a System Administrator, Network Administrator, or similar role
Self-motivated team player with excellent communication skills and ability to work calmly and effectively
Proven experience with
databases, networks (LAN, WAN), and patch management
setting up and repairing computer equipment and related devices
maintaining system capabilities by testing existing equipment and programs
documentation
Knowledge of system security (e.g., intrusion detection systems) and data backup/recovery
Knowledge of NIST 800-171
Awareness of CMMC requirements
Understanding of RADIUS Authentication and other authentication platforms
Familiarity with various operating systems and platforms
Familiarity with Microsoft GCC setup/configuration
About Redstone GCI
Founded in 2012, Redstone GCI sought to be a unique resource to the government contractor community through providing compliance advice across the back office. Our firm exclusively supports government contractors and not-for-profit entities working with the U.S. Government. Redstone GCI supports over 700 clients throughout the U.S., Europe, The Middle East, and Australia, and our clients include some of the largest government contractors as well as many small to mid-sized businesses. Our team members are subject matter experts in all phases of the acquisition lifecycle and the detailed compliance requirements encountered within the GovCon industry. Our consultants support Accounting, HR, Compliance, Procurement, Property Management, Pricing/Business Development, Foreign Export Control, and the C-Suite through strategic advisory and due diligence services. Our team is comprised of a mix of government and industry professionals who provide a holistic approach to our advisory services considering cost, business risk, and audit.
EEO/ADA Statement
All qualified applicants will receive consideration for employment without regard to race, color, religion, sex, sexual orientation, gender identity, national origin, disability, or status as a protected veteran.
Redstone GCI is committed to providing reasonable accommodations to applicants with disabilities. If you would like to apply for employment with Redstone GCI and need special assistance or an accommodation to do so, please contact the Redstone GCI HR team by phone at 256-704-9800.