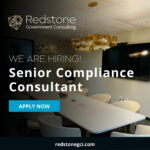 Redstone Government Consulting
*Opportunity for hybrid or fully remote work is dependent upon skill level and experience.
Redstone Government Consulting, Inc. actively recruits from both government and industry and tries to maintain a balance in our workforce between these sides of government contracting to provide an informed approach to our consulting offerings to our clients. Active participation in "special projects" and the ability to conduct research/be a self-starter is a critical trait.  Frequently, our experts have financial statement audit, legal/contractual and other business analytical backgrounds.
Ideal candidates from government will have recent audit or evaluation experience surrounding one or more DFARS business system areas and typically have background/experience in DCMA or DCAA as part of CPSR, Commercial Item, Cost/Price Analysis, Incurred Cost Audit, Accounting System Audit, Estimating System Audit, Government Property Audit or other areas.
Our consultants are encouraged and expected to stay on the leading edge of evolving compliance issues in their area of expertise and continuously share that knowledge throughout the firm.   We employ a team of experts and cross-training and opportunities to work on new areas is critical to growth within the organization.
Redstone GCI works with clients throughout the U.S. and abroad and some travel will likely be required.  The majority of travel is conducted Monday-Friday with infrequent longer-term assignments.
Requirements
5+ years of experience in the government contracting industry
Specialized knowledge in one or more areas associated specifically with DFARS Business Systems compliance
Bachelor's in accounting, finance or related business field is preferred; however, 5 years of relevant experience may be substituted for the bachelor's degree
Working knowledge of FAR, CAS, DFARS and other agency acquisition supplements
Specialized knowledge of government procurement (CPSR), accounting, earned value management system (EVMS), Cybersecurity, Government property or other areas
Desired Skills
Specialized expertise actively supporting the implementation of compliant DFARS business systems or involvement with the internal audit of DFARS Business System areas
Involvement within the financial planning and analysis area of a government contractor particularly with regard to development of indirect rates, proposal basis of estimates, forward pricing rate proposals or other financial analysis of prospective or active contracts
About Redstone GCI
Founded in 2012, Redstone GCI sought to be a unique resource to the government contractor community through providing compliance advice across the back office. Our firm exclusively supports government contractors and not-for-profit entities working with the U.S. Government. Redstone GCI supports over 700 clients throughout the U.S., Europe, The Middle East and Australia and our clients include some of the largest government contractors as well as many small to mid-sized businesses. Our team members are subject matter experts in all phases of the acquisition lifecycle and the detailed compliance requirements encountered within the GovCon industry. Our consultants support Accounting, HR, Compliance, Procurement, Property Management, Pricing/Business Development, Foreign Export Control and the C-Suite through strategic advisory and due diligence services. Our team is comprised of a mix of government and industry professionals who provide a holistic approach to our advisory services considering cost, business risk and audit.
EEO/ADA Statement
All qualified applicants will receive consideration for employment without regard to race, color, religion, sex, sexual orientation, gender identity, national origin, disability, or status as a protected veteran.
Redstone GCI is committed to providing reasonable accommodations to applicants with disabilities. If you would like to apply for employment with Redstone GCI and need special assistance or an accommodation to do so, please contact the Redstone GCI HR team by phone at 256-704-9800.