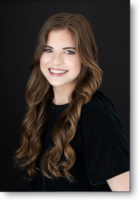 Hannah Gilliam
Human Resources Consultant
Hannah is a Human Resources Consultant with Redstone Government Consulting. She works alongside the HR Consulting team to provide support in the recruit-to-hire process, compensation planning, development of job descriptions and other traditional Human Resources functions. Hannah supports clients by researching applicable federal and state regulations and other information impacting human resources issues to address clients' specific needs. She utilizes her customer service, leadership, and communication skills to be a valuable team player at Redstone GCI.
Experience
Hannah has provided Human Resources generalist support in the areas of personnel file development and maintenance, recruitment, new hire orientation and compensation planning. In addition, Hannah has experience in customer relations and technical support which enhances her ability to serve our clients' needs. Her various experiences combined with her organizational skills and education facilitates her ability to successfully perform her duties.
Education
Hannah holds a bachelor's degree in Human Resource Management with a minor in Marketing from the University of Alabama at Birmingham where she graduated Summa Cum Laude. She was a leader in UAB's Collat School of Business (CSB), serving as a mentor as well as the Vice President of the CSB Peer Mentor Program. In addition, Hannah helped with recruitment efforts for the CSB through her role as a Business Student Leader.