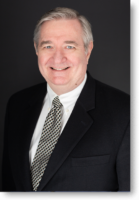 Robert L. Eldridge, CPA
Director
Robert (Bob) Eldridge is a Director with Redstone Government Consulting Inc. He provides Government Contract Consulting services to our Government contractors primarily related to compliance with Federal Acquisition Regulations and Cost Accounting Standards, equitable adjustment claims, and business systems. Prior to joining Redstone Government Consulting, Bob served in a number of capacities with DCAA for over 32 years. Upon his retirement, Bob was a Regional Audit Manager with DCAA.
Bob began his DCAA career in 1981 as an auditor-trainee with the Pratt & Whitney Resident Office in West Palm Beach, Florida. Bob served two three year tours at the Defense Contract Audit Institute teaching multiple contract audit courses including "Auditing Internal Controls", "Technical Management of Audits", and "Advanced Cost Accounting Standards" and writing Agency courses on Cost Accounting Standards and Equitable Adjustment Claims. He returned to the Eastern Region in 1999, holding various audit positions before ultimately becoming a Regional Audit Manager in February 2007. As Chief of the Eastern Region Quality Assurance Division, Bob was heavily involved in developing DCAA guidance related to auditor consideration of internal controls and risk assessment preparation. In 2012, Bob was assigned to the U.S. Senate Committee for Homeland Security and Governmental Affairs, serving as a subject matter expert on a wide range of federal contract and grant matters for Senator Susan Collins. During Bob's tenure with DCAA, he had overall management responsibility for audits performed by over 200 employees. He was directly involved in conducting or managing a wide variety of compliance audits, including: forward pricing proposals, incurred cost submissions, business system internal controls, Cost Accounting Standards, claims, and defective pricing. Bob was also directly involved in complex quantitative methods applications, particularly regression analysis and improvement curve applications.
Bob currently specializes in assisting clients with more complex DCAA audit issues related to business system internal controls and Disclosure Statements and with developing and maintaining government compliant accounting and estimating systems. Bob also provides expert advice on compliance with FAR cost principles and Cost Accounting Standards and assists with the more complex forward pricing proposals and equitable adjustment claims.